Triona Harrop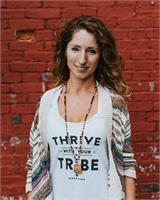 A born fitness enthusiast from a very early age, dancing and movement was an innate way of expression. Inspired by the clients that she works with, she guides and witnesses their true potential as they progress on their personal journey. her education & certification includes: Stott Pilates Instructor, Mat & Reformer, Baron Baptiste Yoga Certified Instructor, Certified Hot Yoga Instructor, Yamuna Body Rolling Instructor and retired professional dancer. Triona teaches Hot Yoga, Core, and Reformer.
Triona Harrop instructs the following:
Breath and body moving as one. This practice creatively weaves postures together to strengthen the entire body while the continuous movement brings an element of meditation to the practice. Flow classes are stimulating and transformative, a great class for those seeking a physical and meditative practice. Come prepared to sweat and skillfully expand physical and emotional boundaries.




Learn how ease of movement and correct body alignment are the keys of improving flexibility, core strength and posture. Discover the importance of breathing, relaxation, control and fluidity all within one exercise program. Fusing the Pilates Method with yoga & conditioning principles.




Mon/Wed/Fri 6am with Triona
Bootcamp-style class
45mins
Cardio - Core - Sculpting - Interval Training

6 weeks

2x per week // $150+hst

3x per week // $200+hst

(no class Nov 13th / make-up class on Dec 11)




In a moderately heated room, this class offers a more meditative style that works on the connective tissues in the body. This style is great for improving flexibility, while maintaining joint mobility and bone health. The room is heated to 90 degrees.





Practiced in a room heated to a temperature of 40°C. A great practice for BEGINNERS because of the basic sequencing of poses designed for the more intense environment. In this 60 minute sequence designed by the Dynamic Yoga family of studios, stretch deeper, detox mind and body. And you have a little extra time to relax too!




A DFI signature service, created by owner Dave MacEachern. This truly dynamic class combines all the best that DYNAMIC FITNESS has to offer. This hot class is designed to boost your metabolism, burn calories and take you to your 'ATHLETIC' edge! HOT ATHLETICA is a 45-minute mix of high-intensity cardio intervals, strength training, core work, and power yoga in the warmth of 95 degrees.




A resistance based Pilates machine that dramatically strengthens and lengthens your body by demanding your core muscles to be isolated throughout the entire workout. This exercise program will transform the way you move and leave you feeling longer, leaner and stronger.




A low impact class designed to break down how the body moves. Infusing yoga, Pilates, and conditioning exercises into one easy to follow format. This heated class will help you to develop a greater understanding of your center, or core, and how to stretch and tone muscles at the same time. Suitable for beginners to advanced.