Erika Killam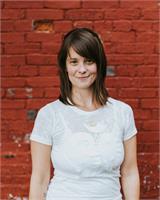 Erika received her initial 200hr certification from Be Yoga/Yoga Works NY in 2004. Prior to moving to PEI in 2009, Erika managed Elements Yoga and Wellness Center in Darien, Connecticut where she had the opportunity to expand her education with Anusara Immersions and teacher training. She studied under such inspirational teachers as Bruce Bassock and Bernadette Birney. At Dynamic Fitness, Erika has continued to refine her teachings with the Tapasya Hot series. She now teaches aspiring yoga teachers as part of the Maritime Yoga College teacher training program. She teaches Yoga Flow and Hot Yoga.
Erika Killam instructs the following:
Practiced in a room heated to a temperature of 40°C. A great practice for BEGINNERS because of the basic sequencing of poses designed for the more intense environment. In this 60 minute sequence designed by the Dynamic Yoga family of studios, stretch deeper, detox mind and body. And you have a little extra time to relax too!




Breath and body moving as one. This practice creatively weaves postures together to strengthen the entire body while the continuous movement brings an element of meditation to the practice. Flow classes are stimulating and transformative, a great class for those seeking a physical and meditative practice. Come prepared to sweat and skillfully expand physical and emotional boundaries.




Every Tuesday at noon devour our Lunch Special!

Changes each week - offering a variety of styles, locations, complimentary treats, & more.

All You Can Yoga for special drop-in price of $7.99

(members eat free)

Follow us on Facebook or Instagram to find out what the Special of the Day is!