Erika Killam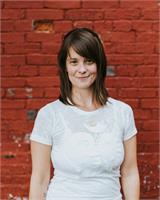 Erika received her initial 200hr certification from Be Yoga/Yoga Works NY in 2004. Prior to moving to PEI in 2009, Erika managed Elements Yoga and Wellness Center in Darien, Connecticut where she had the opportunity to expand her education with Anusara Immersions and teacher training. She studied under such inspirational teachers as Bruce Bassock and Bernadette Birney. At Dynamic Fitness, Erika has continued to refine her teachings with the Tapasya Hot series. She now teaches aspiring yoga teachers as part of the Maritime Yoga College teacher training program. She teaches Yoga Flow and Hot Yoga.
Erika Killam instructs the following:
Breath and body moving as one. This practice creatively weaves postures together to strengthen the entire body while the continuous movement brings an element of meditation to the practice. Flow classes are stimulating and transformative, a great class for those seeking a physical and meditative practice. Come prepared to sweat and skillfully expand physical and emotional boundaries.




There are many Hot Yoga styles out there, from Bikram to Moksha Yoga to an class on the beach in Costa Rica at the height of summer! In true dynamic style our Hot Yoga classes are derived from diverse disciplines including but never limited to: YYoga & the Tapasya Hot Series, Bikram, Anusara & Hatha Yoga. The poses in our hot classes along with specific alignment and timing principles are designed to enhance strength, flexibility and balance both physically and mentally. The hot room facilitates deeper, safer stretching while your detoxifying sweat helps flush impurities from the body. The practice is strong and empowering, allowing you to tap into your own internal fire and determination.




Let this fun, uplifting yoga practice make you sweat from the inside-out! An energetic flow class, linking breath and movement, designed to help you access strength, flexibility, and balance. Our flow yoga instructors are influence by various traditions, check out their bios to see whats inspired them!