Natalie Hughes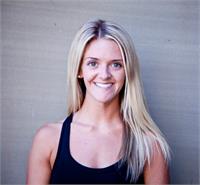 Natalie holds a Bachelor of Science in Kinesiology and worked as a Kinesiologist in a physiotherapy clinic for 2 years before joining the Dynamic family. She brings her knowledge of the body along with her experience coaching competitive gymnastics and cheerleading into her classes to offer a dynamic, safe, and incredibly inspiring experience. Natalie is one of the creators of Hot Athletica, one of Dynamic Fitness' exclusive classes.
Natalie Hughes instructs the following:



TO OUR TRAINING CLIENTS: You must have an Unlimited Training membership & be Logged In with the email we have on file for you in order to sign in for these classes. With the sessions getting busier, it is imperative that you SIGN UP ONLINE prior to attending class. If the class reaches capacity & you have not reserved your spot in advance (just like SPIN) you will be turned away. For the

6:15am

classes you must reserve your spot before

8pm

the night before - be sure to check the status of this class prior to attending! If it is your first time trying our ESA Training - our beginner-friendly sessions are Mon/Fri at 9am and Tuesdays at 5:30pm - please call or sign in online in advance, an Essentials Drop-In rate is available.





With 15 years experience training high caliber athletes & weekend warriors alike, our service stands above the rest:

a total body workout through high-intensity interval training

strength & speed endurance

proper lifting techniques and core stabilizing exercises

led by our experienced team of certified instructors

facilitates weight loss

builds lean muscle mass

work hard, see results

Founded by Olympic champion Dave MacEachern, ESA Training will provide you with the equipment, instruction and motivation needed to reach beyond your goals. Class content will vary using all types of equipment and fitness accessories.




A low impact class designed to break down how the body moves. Infusing yoga, Pilates, and conditioning exercises into one easy to follow format. This heated class will help you to develop a greater understanding of your center, or core, and how to stretch and tone muscles at the same time. Suitable for beginners to advanced.