Haley Shepherd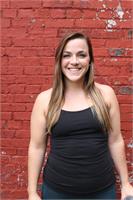 Haley holds a Bachelor of Science in Human Kinetics (Kinesiology) from Saint Francis Xavier University and has recently graduated with her MSc in Physiotherapy from Robert Gordon University in Aberdeen Scotland. While undergoing the Canadian licensing process to practice physiotherapy in Canada, Haley is working as a Kinesiologist at Sports Centre Physiotherapy. She has a strong background in athletics from playing hockey since the age of 5 in the Antigonish Minor Hockey Association before going on to play varsity hockey with the Saint Francis Xavier X-Women. Outside work, Haley is heavily involved with Standardbred Race horses.
Haley Shepherd instructs the following:
A DFI signature service, created by owner Dave MacEachern. This truly dynamic class combines all the best that DYNAMIC FITNESS has to offer. This hot class is designed to boost your metabolism, burn calories and take you to your 'ATHLETIC' edge! HOT ATHLETICA is a 45-minute mix of high-intensity cardio intervals, strength training, core work, and power yoga in the warmth of 95 degrees.