Doris MacPhee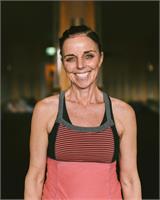 "My greatest joy is seeing participants grow in confidence and power both on and off the mat." Doris came into the world two feet running and has never stopped! A bundle of energy and enthusiasm who loves sport, spirit, movement and challenge. In her early days, Doris was a member of the UPEI Women's Varsity Basketball team. She has been the recipient of various awards and recognition from both her leadership and athletic skill. She has completed several marathons. Doris is certified in Tapasya Hot Yoga, Hot Athletica, Hatha Yoga, PoundFit, and is currently working on her Barre certification. It is never too early or too late to start moving. Grab a mat and let's do this!
Doris MacPhee instructs the following:



A DFI signature service, created by owner Dave MacEachern. This truly dynamic class combines all the best that DYNAMIC FITNESS has to offer. This hot class is designed to boost your metabolism, burn calories and take you to your 'ATHLETIC' edge! HOT ATHLETICA is a 45-minute mix of high-intensity cardio intervals, strength training, core work, and power yoga in the warmth of 95 degrees.




There are many Hot Yoga styles out there, from Bikram to Moksha Yoga to an class on the beach in Costa Rica at the height of summer! In true dynamic style our Hot Yoga classes are derived from diverse disciplines including but never limited to: YYoga & the Tapasya Hot Series, Bikram, Anusara & Hatha Yoga. The poses in our hot classes along with specific alignment and timing principles are designed to enhance strength, flexibility and balance both physically and mentally. The hot room facilitates deeper, safer stretching while your detoxifying sweat helps flush impurities from the body. The practice is strong and empowering, allowing you to tap into your own internal fire and determination.