Robert Norton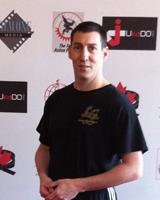 Originally from England, Robert is the Founder of Norton Arts & Shoto-Chi. He is the author of Pine-Wave Energy: A Guide to Conflict Resolution, has been inducted into the United States Martial Arts Hall of Fame and holds a Ph.D. in Martial Science.
After founding Shoto-Chi at age 17 he has continued to evolve his art over the past 25+ years by focusing on the needs of the individual. Rob's unique perspective into conflict has allowed him to dynamically change the face of conflict arts by focusing less on fighting and more on conflict management.
Rob has developed specialized programs over the years for providing individuals to businesses the abilities to manage conflict. He has become an internationally recognized instructor who has taught around the world.
Robert Norton instructs the following:
Become Empowered by learning PRACTICAL skills in Self-protection.

This 2 week Violence Prevention Course is NOT teaching martial arts, but provides practical knowledge and skills in keeping yourself safe. It is also a lot of fun!

Learn how to better IDENTIFY, AVOID and MANAGE Violence. This includes learning about the importance of Situational Awareness, Verbal and Nonverbal Strategies, Personal Space Management, Conflict Psychology, Practical Self-Defence (not martial art based) and much more.

Norton Arts is P.E.I's #1 Source for Self-Protection training because we focus on YOU and keep it relevant and real!

Sign up today and Become Empowered in Self-Protection.
Ages 12+
$60.00 + HST

Please wear whatever clothes you feel comfortable in.
Bring indoor shoes and water!