Robert Norton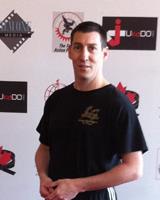 Originally from England, Robert is the Founder of Norton Arts & Shoto-Chi. He is the author of Pine-Wave Energy: A Guide to Conflict Resolution, has been inducted into the United States Martial Arts Hall of Fame and holds a Ph.D. in Martial Science.
After founding Shoto-Chi at age 17 he has continued to evolve his art over the past 25+ years by focusing on the needs of the individual. Rob's unique perspective into conflict has allowed him to dynamically change the face of conflict arts by focusing less on fighting and more on conflict management.
Rob has developed specialized programs over the years for providing individuals to businesses the abilities to manage conflict. He has become an internationally recognized instructor who has taught around the world.
Robert Norton is currently not instructing any classes.