Robert Norton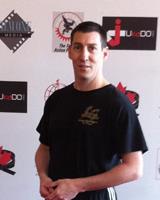 Originally from England, Robert is the Founder of Norton Arts & Shoto-Chi. He is the author of Pine-Wave Energy: A Guide to Conflict Resolution, has been inducted into the United States Martial Arts Hall of Fame and holds a Ph.D. in Martial Science.
After founding Shoto-Chi at age 17 he has continued to evolve his art over the past 25+ years by focusing on the needs of the individual. Rob's unique perspective into conflict has allowed him to dynamically change the face of conflict arts by focusing less on fighting and more on conflict management.
Rob has developed specialized programs over the years for providing individuals to businesses the abilities to manage conflict. He has become an internationally recognized instructor who has taught around the world.
Robert Norton instructs the following:
Norton Arts is running weekly classes in the Self-Protection aspect of conflict management. These are mixed classes and open to all aged 12+.

These are not fitness classes or lessons in traditional martial arts. These are classes for those looking to learn practical life skills is protecting oneself from harm. These classes focus on preventing and managing clonflict situation.

You will learn aspects of self-protection inclusive of:
• Awareness
• Preventative Measures
• Conflict Psychology
• Personal Space Management
• Practical Physical Defence

If you have taken one of our courses before, know nothing of conflict or even an experienced martial artist, come on out and have some fun while learning some practical skills in self-protection. No ego, just a group of people looking to learn how to better protect themselves.

Drop-in fee is $15
Please bring indoor shoes.

If you are a Woman and uncomfortable with mixed classes, then be sure to check out our Women's Self Defence workshops.




Every Woman has the right to feel safe. From prevention to escalation and resolution, Norton Arts provides a practical and comprehensive approach to personal safety.

This 4hr workshop being run at Dynamic Fitness in Charlottetown, takes a proactive approach towards conflict and focuses on all elements from emotional to verbal and personal reactions to physical defence.

THIS IS NOT A TRADITIONAL MARTIAL ARTS CLASS. It is built around realism and provides a truly empowering and educational experience.

The Benefits to you:
• Become More Aware of Your Surroundings
• Avoiding Dangerous Situations
• Understand Your Rights!
• Learn About The Signals You Emit
• What Attackers Seek From Prey
• Understanding Distractions And Engagement
• How to Communicate Within Conflict (QSC™)
• How to Manage Your Personal Space
• Practical Self Defence

Why Learn Self Defence?
Because no one knows what the future holds so it is better to become proactive versus reactive when it comes to our personal safety.

Cost is only $60 per person
Space is limited to 24 participants

and those over the age of 12.