Holly MacLaine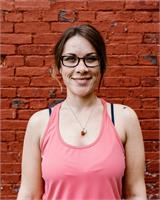 Holly was born and raised in Meadowbank, PEI. After spending 11 years living away in Nova Scotia, New Brunswick, and Alberta, she feels so blessed to be able to return home again with intentions of planting roots and getting settled back into the east coast life style.
A back injury was what first had Holly curious with Yoga. After exploring different types, lineages, and studios, Holly found a familiar sense of "coming home" with Vinyasa.
Holly completed her 200Hr YTT at Halifax Yoga. After her training she became aware of a deeper spiritual shift and started to see a different perspective in regards to teaching. Holly hopes to offer and create a similar experience for her students. Her students have become her biggest inspiration and motivation.
Holly is strongly influenced by Kundalini and will often drop "energetic" tips to deepen your practice. In Holly's class you will experience a focus on mantra, self love, proper alignment, meditation, and a quircky sense of humour.
Holly MacLaine instructs the following:
In a moderately heated room, this class offers a more meditative style that works on the connective tissues in the body. This style is great for improving flexibility, while maintaining joint mobility and bone health. The room is heated to 90 degrees.