Andrea St.Jules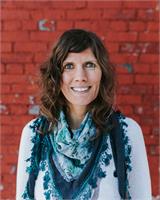 After 16 years living in Vancouver and abroad, Andrea is delighted to be back home in the Maritimes, and sharing her love of Yoga as part of the Dynamic team!
Andrea's journey to wholeness has led her to explore several styles of yoga and spiritual practice over the years, including certifications in Hatha Yoga (Yogi Vishvketu, India), Kundalini Yoga (Gurmukh Kaur Khalsa, LA) and Yin Yoga (Jolene Bayda, Vancouver). She also holds a BA in Psychology, a certificate in Thai Yoga massage, is a certified birth doula, and founder of Graceful Warriors - a unique platform for women's empowerment and sisterhood connection.
Since first stepping on the mat in 2005, yoga has served as an anchor in her life, helping her to heal and find balance amidst the challenges of our fast-paced modern world. Within her classes she cultivates a supportive and uplifting environment, authentically sharing from the Heart her experience of this beautiful practice that has transformed her life so deeply.
Andrea St.Jules instructs the following:
6 weeks / $75+hst

($10 discount if participate in Intro Workshop)

$15 Drop-In

Everything that exists in the manifest Universe is a configuration of the Five Elements : Earth, Water, Fire, Air and Ether. In the Yogic tradition they are called Tattvas, and they correspond to the first 5 Chakras (energy centers in the body). Purifying each of the Tattvas within us is an important part of awakening to higher levels of conscious awareness and healing. In this 6 week series we will use the technology of Kundalini Yoga to explore each of the Elements within us and around us. Kundalini Yoga is an ancient, holistic yogic system, which focuses on expanding sensory awareness and increasing intuition. It incorporates a dynamic blend of exercises, postures (asana), breath work (pranayama), chanting (mantra), hand gestures (mudra) and meditation to balance and align our physical, mental and energy bodies. Classes are suitable for all levels, although it's recommended to take the Introduction to Kundalini Yoga workshop on Sept.12 if you are new to the practice. (*10 discount offered on the course if you take the Intro workshop*)




In a moderately heated room, this class offers a more meditative style that works on the connective tissues in the body. This style is great for improving flexibility, while maintaining joint mobility and bone health. The room is heated to 90 degrees.





Kirtan Kriya is a powerful meditation that uses mantra, mudra and visualization to awaken your intuition, boost your brain power, and promote emotional balance and healing.

It is considered the most important meditation in the Kundalini Yoga tradition, and has been studied extensively by the

Alzheimer's Research and Prevention Foundation.

Among the many benefits they have observed are: improved memory, reduced stress, improved brain chemistry, improved mood and sleep, reduced depression, and decreased risk of Alzheimer's with a healthy anti-aging effect on the brain. And in addition to all that, it's considered a meditation for new beginnings!

Inviting you to join our 40 day community mediation journey beginning with the new moon on Sept.20. We will gather weekly to meditate as a group, and on all the days in between you will do the meditation at home on your own time. You can choose either the 31 minute, or 12 minute version of the meditation. Through our facebook group and email we will support one another throughout the journey. In the Kundalini Yoga tradition they say it takes 40 days to change a habit pattern. Are you ready to release the past and commit to a brand new beginning?

To experience this meditation prior to committing to the 40 day journey, and to learn more about it, join us on Sept.12 for the Introduction to Kundalini Yoga workshop. Or contact Andrea at

gracefulwarrior555@gmail.com

Join the 40 day meditation – By Donation

(to be shared at end of 40 days, with partial proceeds going to the 3HO Foundation)

Drop In to guided group meditation
for those also in 6 week Series - $5 + tax
Regular Drop In to guided group meditation – $10 + tax

(Attendance at the first group meditation is strongly recommended if you plan to join us for the 40 day practice. The rest are optional, and anyone can join the Tuesday group meditations, even if not doing the 40 days).




Practiced in a room heated to a temperature of 40°C. A great practice for BEGINNERS because of the basic sequencing of poses designed for the more intense environment. In this 60 minute sequence designed by the Dynamic Yoga family of studios, stretch deeper, detox mind and body. And you have a little extra time to relax too!