Andrea St.Jules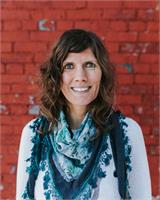 After 16 years living in Vancouver and abroad, Andrea is delighted to be back home in the Maritimes, and sharing her love of Yoga as part of the Dynamic team!
Andrea's journey to wholeness has led her to explore several styles of yoga and spiritual practice over the years, including certifications in Hatha Yoga (Yogi Vishvketu, India), Kundalini Yoga (Gurmukh Kaur Khalsa, LA) and Yin Yoga (Jolene Bayda, Vancouver). She also holds a BA in Psychology, a certificate in Thai Yoga massage, is a certified birth doula, and founder of Graceful Warriors - a unique platform for women's empowerment and sisterhood connection.
Since first stepping on the mat in 2005, yoga has served as an anchor in her life, helping her to heal and find balance amidst the challenges of our fast-paced modern world. Within her classes she cultivates a supportive and uplifting environment, authentically sharing from the Heart her experience of this beautiful practice that has transformed her life so deeply.
Andrea St.Jules instructs the following:
8 sessions // $80+hst

4 sessions // $50+hst

Drop-In // $15+hst

No class July 12 & 19

In the yogic philosophy, there are hundreds of 'chakras' located at different areas throughout the body, through which an invisible energy called Prana (vital life force energy) is circulated. Chakra, a Sanskrit word meaning 'wheel' or 'disk', is essentially a spinning vortex of energy. There are 7 primary chakras along the 'astral' or 'etheric' spine, which correlates with the physical spine.

Each of the primary chakras corresponds with a major nerve plexus within the body, as well as with certain organs and glands, and has particular emotional and psycho-spiritual attributes. When the chakras are balanced, the Prana flows freely through the body and we feel vibrant, healthy and alive. Using the technology of Kundalini Yoga, each week we will focus on a different chakra, beginning from the ground up with the root chakra and moving our way up the astral spine to the crown chakra, through the Aura and beyond.

Kundalini Yoga is an ancient, holistic yogic technology, which incorporates a dynamic blend of exercises, postures (asana), breath work (pranayama), chanting (mantra), hand gestures (mudra) and meditation to heal, balance and align our physical, mental and energy bodies.

This series is open to all levels of experience with Yoga.