Kate Forget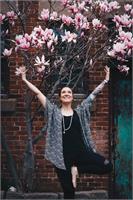 I was born and raised in Southern Ontario. During my youth, I figure skated competitively for many years. After graduating high-school I spent approximately 7 years as Hairstylist and Barber. Then, my husband and I moved to Northern Ontario where I came back to figure skating as a Coach for 3 years. During this time, yoga was becoming increasingly important to maintain both my physical health and well being. Our new life journey brought us to The Gentle Island in 2017. I soon started Yoga Teacher Training with the Maritime Yoga College and graduated in May of 2018. Since then, I've worked at a few studios and have been doing some volunteer yoga as well. The people of Prince Edward Island have been so welcoming and I'd like to thank everyone involved in encouraging me to pursue my yoga dreams. I look forward to seeing you at Dynamic!
Kate Forget instructs the following:
There are many Hot Yoga styles out there, from Bikram to Moksha Yoga to an class on the beach in Costa Rica at the height of summer! In true dynamic style our Hot Yoga classes are derived from diverse disciplines including but never limited to: YYoga & the Tapasya Hot Series, Bikram, Anusara & Hatha Yoga. The poses in our hot classes along with specific alignment and timing principles are designed to enhance strength, flexibility and balance both physically and mentally. The hot room facilitates deeper, safer stretching while your detoxifying sweat helps flush impurities from the body. The practice is strong and empowering, allowing you to tap into your own internal fire and determination.